The letter at right from Jørgen Lindegaard, President and CEO, The SAS Group, to customers in the opening pages of the March 30, 2003 edition of the SAS Travel Book introducing a streamlined format for their printed timetable provides a good overview of how the IT revolution in aviation is cascading to the benefit of the passenger.

As collectors, we have savored the history of commercial aviation through the art and data of the printed timetable. What a wonderful window these pages have been for us in watching our industry grow and change over the past 80 years.

But like the transition from railroad-style columnar timetables of the '30s, '40s and '50s into the 'quick reference' editions of the 1960s, the internet revolution of the past few years seems destined to again transform how the airlines communicate their basic products with consumers.

Over the past few years, electronic timetables have been produced in a variety of formats including Ansett's mailing list distribution of their schedule on floppy disk.

Common ET formats on the web today include downloadable media such as:

Printable PDF format for Adobe Acrobat
Executable stand-alone software for PCs
Abbreviated media for various PDA formats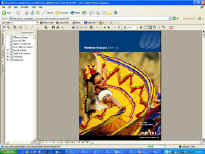 Click for larger view
On-line ET versions are usually route-specific intended to facilitate immediate ticket sale. Some smaller carriers present their complete schedules in a basic web text format.
The need for drastic cost-cutting in the post Sept. 11 economy has accelerated focus on ETs with an increasing number of carriers reducing or eliminating print timetables. Today, very few US airlines save AirTran and Southwest produce hard copy timetables. As Mr. Lindegaard's letter suggests, this trend will likely globalize over the next few years.
Likely, there will remain some need for hard copy flight schedule presentation. At the risk of mixing hobbies, I'm reminded of Star Trek's 24th Century Captain Picard picking up a hard bound volume of Shakespeare.
Delta Air Lines, which had discontinued print editions this Spring, has now responded to customer feedback with plans for a limited production print edition for launch later this year.
However, as the flexibility and power of the internet become increasingly accessible worldwide, the trend towards electronic timetable distribution seems unstopable.

May 7, 2003
From the
President's Desk

The Travel Book that you're holding in your hand is the product of the revolution that is known as IT.

Accessing the Internet for information and services is not part of everyday life, so we've moved most of the contents of the printed Travel Book to our website, www.scandinavian.net. This edition is limited to a timetable of flights coded SK for SAS, and a brief description of some of our new products.

Since speed and convenience are two of the biggest benefits for internet users, we've designed our site to make planning and booking your travels as easy as possible. And to maximize your freedom of choice.

If you want to store a personal profile with us, that's up to you. If you're traveling on an E-ticket, you can pick the card you prefer. If you have an SAS Travel Pass or a Travel Pass Corporate, you can load it with the new flights whenever you choose. And those are just a sample of the options available.

Naturally, you're free to select the level of service that suits you best. If you want personal service from a travel agent of or a SAS Call Center, that's up to you. But you'll find that booking flights at the SAS web site is always the least expensive choice.

Internet check-in is another service that makes traveling easier for you. It's available for up tot two pieces of baggage on domestic flights

within and between the Scandinavian countries, and for other selected SAS flights. This service is rapidly expanding, so be sure to visit our site and stay updated.

Another benefit of visiting the SAS site is that you'll find special offers at very attractive fares, and most of them are available only on the Web. What's more, you can also book snowflake flights to a selection of popular destinations in Europe. snowflake offers one-class, one-way tickets at cut-rate fares, with no overnight or stay-away requirements. And you can book them whenever you like.

As you can see, the SAS site is dedicated to making your travel as comfortable and as convenient as possible - on the ground as well as in the air.

Have a good Trip
Electronic Timetables from

| | |
| --- | --- |
| | Addition of 'Class 1' timetable issue dates to Collector's Guide pages |
| | Inclusion of ETs on gallery pages where practical (initially, AS, AA, CO, DL, UA) |
| | Direct links to current on-line timetables on individual airline web sites |
| | Download past-date PDF versions for selected carriers |
| | |
| --- | --- |
| December 1, 2002 | November 16, 2002 |