Timetable Publication Dates

Class 1A -
System Timetables

1
No Date - @1926 or 1927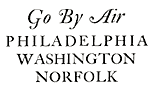 "Travel by air is now a tried and proven means of transportation. In Europe today, the countries are honeycombed wth air lines. Airplane travel forms an integral part of the world's transportation system.

"P.R.T. Air Service, Inc., operates daily service between the Philadelphia Navy Yard, Hoover Flying Field - Washington and Norfolk, Virginia. The distance from Philadelphia to Washington by air is 125 miles, and the flying times in one and one-half hours each way. The trip from Philadelphia to Norfolk can be made in 3 1/2 hours.

"The fare for this service is exceptionally low, in order that this latest form of transportation can be introduced to the public. That the service is popular is evidenced by the 1,500 passengers carried between Philadelphia and Washington in the first two months of operation.

"An added feature of this service is the use of luxurious Air Service buses, which ply between the Waiting Room and the Flying Field. There is no extra charge for this service. Each plane carries eight passengers, and each passenger is permitted thirty pounds of baggage free. 25c a pound is charged for excess baggage.